POLISH CHAMPION
CHAMPION OF RUSSIA
CHAMPION RKF
CHAMPION LITHUANIA
CLUB CHAMPION OF LITHUANIA
CHAMPION OF SLOVAKIA
CHAMPION OF SERBIA
ROMANIA CHAMPION
GRAND CHAMPION OF ROMANIA
CHAMPION HUNGARY
Dachshund Club Winner 2012
Dachshund Club Winner of Lithuania 2012
Polish Junior Champion
Junior Club Winner of Dachshund011
The best kanninchen dachshund long-haired and fourth in the overall standings IV FCI group in the competition TOP TEN Dachshund Club for 2013 years.
BASIM Lizus Maksimus
Kannichen Dachshund Long-haired
born 09.12.2010
owners: Ewa Dąbrowska i Elżbieta Bogusławska-Przybysz


The main significance of the Arabic name Basim is "smiling, cheerful" - and it is precisely the son of Aluzja. This dog of exceptional serenity, friendly to the whole world. He is handing out kisses, and is always willing to cuddle, the other dogs invites to play. Very calm, barking not too much, and dealing with the new situations. He loves the convenience, so if he only have the opportunity, packs on knees or lounging on a soft couch. Any soft blankets and pillows immediately recognizes as his own. Constantly demands caresses and could be stroked from morning to evening. He is romantic. In both houses - in Warsaw and in Rusiec - he feels just very well. Basim is able to enjoy life and take with him the best.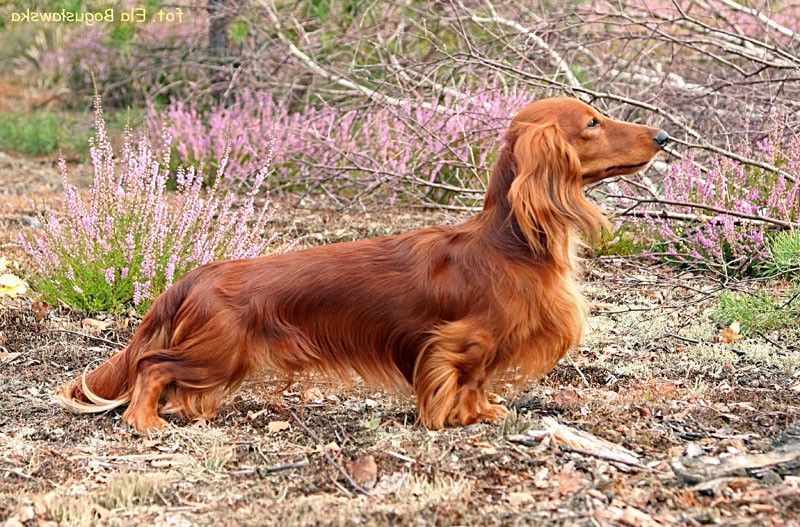 DINGO z DERBY

WININIFRED Trias

MORGAN Della Canterana

ELISCHA Staszel

SABINA Z Debry

MAX z Debry

BEKY Rajana

ALUZJA Ani MRU MRU

DJANGO von der Humboldtruh

TONI von der Humboldtruh

LISBET von der Humboldtruh

ELEGANTKA Corigentia

HIGHLIFE vom Rainerschlössl

FANNY Ad Operam