06-07.08.2010 r. The International Show in Druskieniki- Lithuania.
In Lithuania we were a very strong Polish team which took back great successes, because all of us got the first places in rabbit, miniature and standard Dachshunds. We are very proud of SZNURECZEK Brzdac- Wilma, who was judged by Mr Hans Boelaars from Netherlands and she was the winner in the first day, she received 1st place, excellent, CAC, CACIB, BOB (Best of Breed).
In the second day was judging Mr Luis Manuel Calado Catalan from Portugal, and our Wilma received CAC and resCACIB, but the victory remained in Polish hands, the winners were our friends ALUZJI Ani Mru Mru and Ela Boguslawska. EMPATIA Dagi Dog began Lithuanian Championat.

Pati was happy watching surroundings and finals on which ARES Dagi Dog with his owner Dorota Zabielska won the 1st place in Group- BOG-1.

And after the show- walk about beautiful Druskieniki, admiring the Neman, beautiful forest parks and the picturesque promenade, where we sought the darkness in this hot summer day.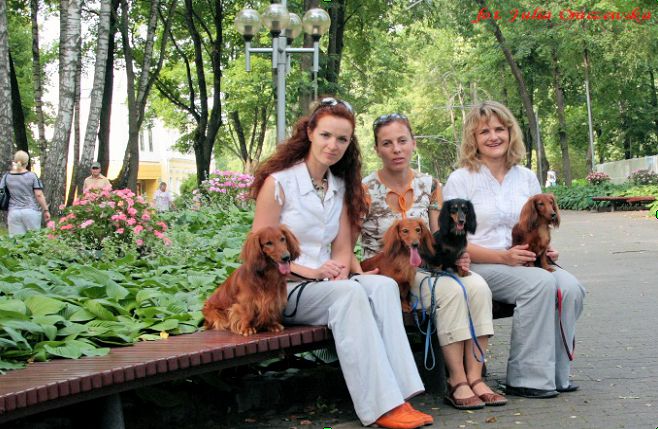 01.08.2010 r. It was really warm Sunday. Perfect day for friend's meeting. SILVANAwith her owners came to visit us. Silje- her sister was very happy and both of them played all over the garden. It was seen that Silvana is in love with her owners, like owners in her.


10.07.2010 r. The International Dog Show in Warsaw. 
The very warm day but so successfull. It was a debut of Excellmagic L'Brellianceblack- Happy, who I am a co-owner for with Dagmara Oraczewska from Dagi Dog Kennel.
Happy received the following titles the Junior Winner and the Best Junior in Breed.
Me and Dagmara are very proud of Happy's achivements and because she is so excellent female and we would like to sand huge thanks to the owner of Excellmagic Kennel- Ekaterina Belova

For so beautifull photos I would like to thank Ela Boguslawska from Lizus Maksimus Kennel. Thank You very, very much.


24.06-27.06.2010 r. he World Dog Show in Denmark- HERNING 2010
The unique event of the year, to which every breeder, the owner and the enthusiast of pure-bred dogs are awaiting. Prestigious exhibition, on which it is worthwhile being. We represented our breeding with the rabbit long-haired dachshund AKSEL Hokus Pokus z Perlowej, who received in his class excellent and was the third

On the ring of Standard dachshund long- haired was my friend Dagmara Oraczewska from Dagi Dog Kennel, who also was a success at such a great competition, because EROS Dagi Dog was the second in his class and ARES Dagi Dog the fourth.


30.05.2010r. National Dog Show in Plock. A very nice atmosphere and big successes, because EMPATIA Dagi Dog and AKSEL Hokus Pokus z Perlowej won again. Both of them received BOB- Best of Breed title, and during the finals EMPATIA was the second on Best in Group- BOG II


22.05.2010r. It was the first warm day, which we enjoy with my best friend and the owner of Lizus Maksimus Kennel- Ela Boguslawska. Green grass and warm breeze make our dogs once meditating and focus on beauty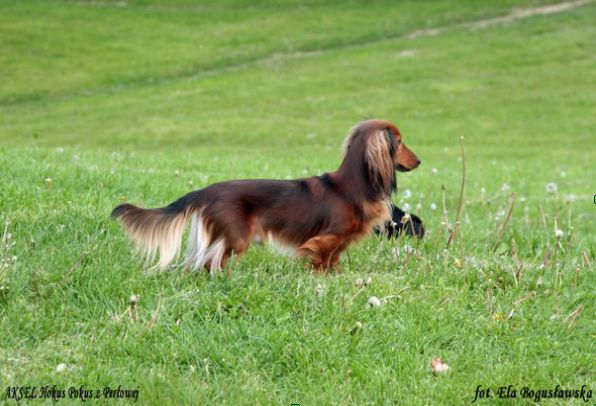 and the other time trigger the desire to play, so we couldn't identify either rabbits in a meadow or dachshunds.

| | |
| --- | --- |
| | |
We were walking with the strong groupe of rabbit dachshunds: ALUZJA Ani Mru Mru with her son ALCHI Lizus Maksimus, SZNURECZEK Brzdac with her kids AKSEL and SILJE Hokus Pokus z Perlowej.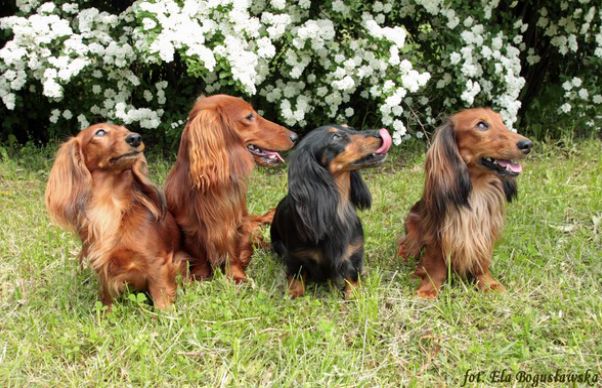 Wilma, SZNURECZEK Brzdąc play with her daughter Silje and Aksel look at them very carefully 

| | |
| --- | --- |
| | |


The company finally managed to set the photo session, which came out sensationally

| | |
| --- | --- |
| | |

10.05.2010r. We visited our best friend Dagmara Oraczewska- the owner of Dagi Dog breeding- and shared with our success and of course we wanted to see EMPATIA's Dagi Dog younger brother FELLINI Dagi Dog who at the moment is waiting for the new home. FELLINI is 8 weeks old boy who we like very much. He is brave and very chearfull. He is playing with adult dogs and with happyness trying to know a new world

| | |
| --- | --- |
| | |

01.05.2010r. National Dog Show in Dobre Miasto, where EMPATIA Dagi Dog achieved a big success, because she received the title of Best of Breed and after this on the Best in Show Final she received the title of BEST OF GROUP place I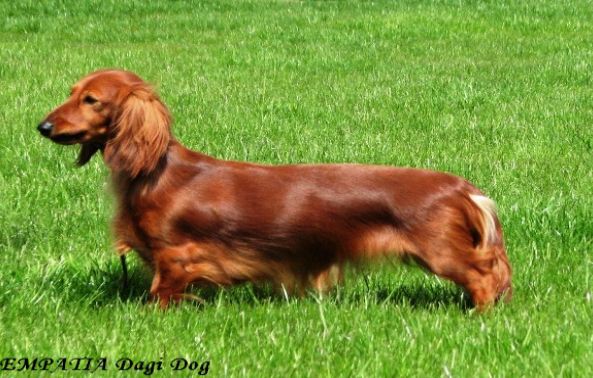 02.05.2010r. Puppies from the Litter S have their new houses and incredible and fantastic owners. We wish all new owners to be happy and patient for their small friends.


01.05.2010r. International show in Lodz, na której EMPATIA Dagi Dog on which EMPATIA Dagi Dog received CACIB and CRUFTS 2011 qualification and the title Best of Breed.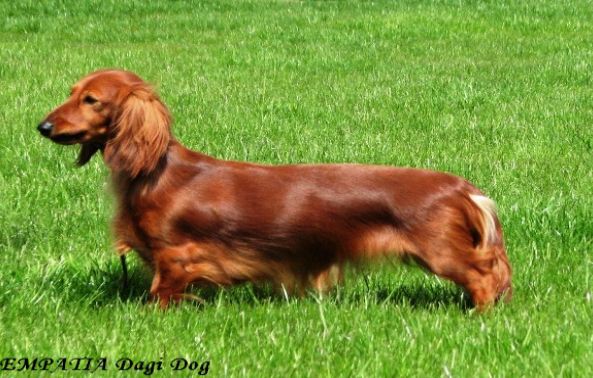 18.04.2010r. The sunny, beautiful day and our puppies who are 7 weeks old now. On this Saturday we entertained our best friend Ela Boguslawska from Lizus Maksimus breeding and because of her our puppies have many beautifull pictures which are available in Gallery of Litter S

| | |
| --- | --- |
| | |

04.04.2010r. New pictures of our puppies are available in Litter S Gallery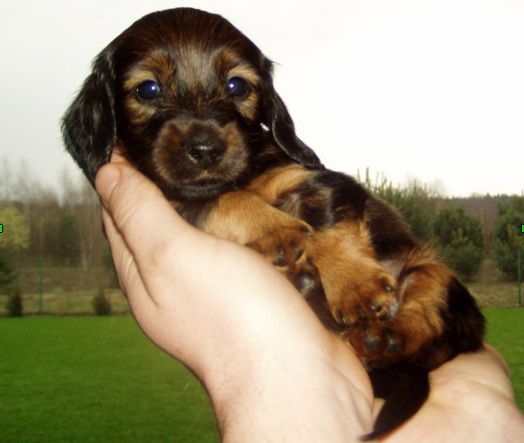 02.04.2010r. Our puppies- rabbit long-haired are 5 weeks old. I would like to wish everyone Happy Easter in nice, family atmosphere.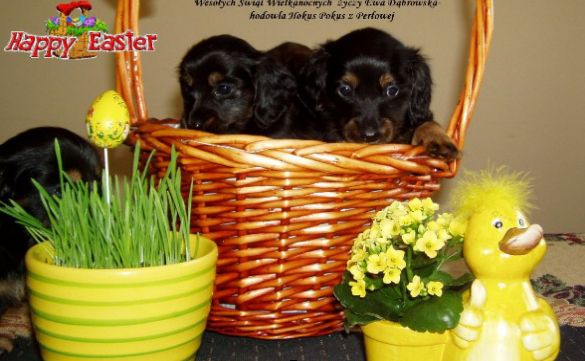 26.03.2010r. HAPPY is 8 months old. And because of this opportunity we made her with Dagmara Oraczewska some pictures, which are available in Excellmagic L'BRELLIANCEBLACK's Gallery


19.03.2010 r. The puppies from S Litter are 3 weeks old now. Solveig, Syriusz Black, Sol, Silje and Silvana Hokus Pokus z Perlowej start to know the world.More pictures You can see in GALLERY OF THE LITTER


05.03.2010 r. Puppies from S Litter are 7 days old. They growing fast and healthy.


26.02.2010 r. We have new litter- 5 puppies were born, 3 females and 2 males. Everyone who is interested to buy a puppy is welcome. More information You can find on side Litters


13.02.2010 r. The international dog show in Rzeszow, where Aksel Hokus Pokus z Perlowej received the title Junior winner and he became Polish Junior Champion 


26.01.2010 r. We confirmed the pregnancy of our small rabbit Dachshund SZNURECZEK Brzdac- Wilma Everyone who would like to become a happy owner of a little rabbit Dachshund long haired puppy please contact us. All information about parents of the litter are available on:)